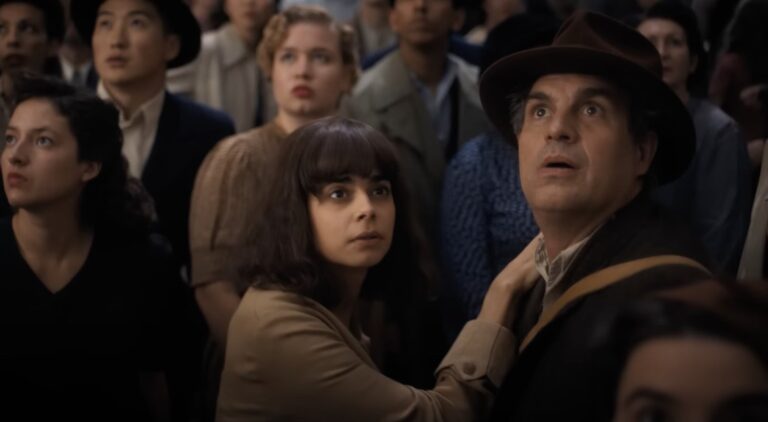 Joey Paur

Curated From geektyrant.com Check Them Out For More Content.


Netflix has released a beautiful trailer for director Shawn Levy's upcoming series adaptation of the World War II-set survival thriller, All the Light We Cannot See. This is a four-part series, and it looks like it will be quite a sweeping epic.
The film is based on the Pulitzer Prize-winning novel, which tells the story of the awesome power of human connection. The story follows characters Marie-Laure LeBlanc, a blind French girl, and Werner Pfennig, a German orphan with a gift for engineering.
As the war intensifies, Marie-Laure's father, a locksmith at the Museum of Natural History in Paris, is entrusted with the museum's most valuable and dangerous artifact, a diamond called the Sea of Flames. Meanwhile, Werner is recruited by the Nazis to use his engineering skills to track down and destroy resistance fighters.
The paths of Marie-Laure and Werner eventually cross in the town of Saint-Malo, where they must navigate the destruction and chaos of war while trying to hold onto their own sense of morality and humanity. Through vivid and poetic prose, Doerr explores themes of war, morality, and the power of human connection.
The movie stars Louis Hofmann, Lars Eidinger, and Marion Bailey, with Hugh Laurie and Mark Ruffalo, and the project introduces Aria Mia Loberti as Marie-Laure. I'm 100% sold on this, it looks like such an incredible series! Here's the official synopsis for the film:
Based on the Pulitzer Prize-winning novel written by Anthony Doerr, Netflix's All The Light We Cannot See is a groundbreaking limited series that follows the story of Marie-Laure, a blind French girl and her father, Daniel LeBlanc, who flee German-occupied Paris with a legendary diamond to keep it from falling into the hands of the Nazis. Relentlessly pursued by a cruel Gestapo officer who seeks to possess the stone for his own selfish means, Marie-Laure and Daniel soon find refuge in St. Malo, where they take up residence with a reclusive uncle who transmits clandestine radio broadcasts as part of the resistance. Yet here in this once-idyllic seaside city, Marie-Laure's path also collides inexorably with the unlikeliest of kindred spirits: Werner, a brilliant teenager enlisted by Hitler's regime to track down illegal broadcasts, who shares a secret connection to Marie-Laure as well as her faith in humanity and the possibility of hope.
All the Light We Cannot See is a series written and created by writer Steven Knight (Seventh Son, Pawn Sacrifice, Burnt, Allied, Woman Walks Ahead, The Girl in the Spider's Web, Serenity, Spencer). It will be released on Netflix on November 2nd, 2023. Watch the trailer and tell us what you think!