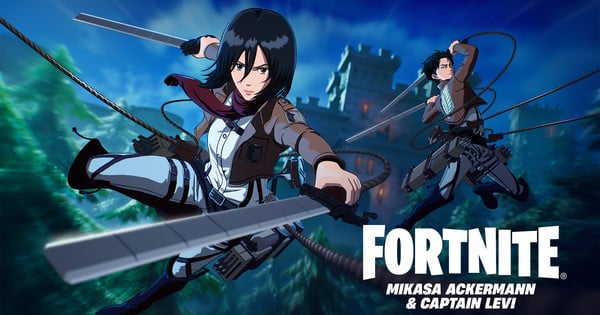 Curated From www.animenewsnetwork.com Check Them Out For More Content.

Includes ODM Gear, Thunder Spears, character outfits, Jaeger's Family Basement
---
The popular battle royale game Fortnite added Attack on Titan content in its v24.20 update on Tuesday, including Omni-Directional Mobility (ODM) Gear, Thunder Spears, and outfits for Eren Jaeger, Captain Levi, and Mikasa Ackermann.
The game posted a trailer previewing the new outfits and gameplay additions:
ODM Gear and Thunder Spears appear from the ground, Chests, and Scout Regiment Footlockers. The ODM Gear can be used to grapple in the air and strike enemies below. The Thunder Spears function as arm-launched rockets which can penetrate armored structures.
Those who have mastered the ODM Gear can try knocking down Titan Targets on the Island where Fortnite's action takes place. Also, an upcoming Week 5 Quest will test your Thunder Spear skills. Completing the quest will unlock the Courageous Mikasa Spray, while completing the first of the upcoming Trigger Happy Trials will unlock the Scowling Levi Emoticon. (Note that you need to complete the preceding "Treasure Hunting" Trials and "Process of Elimination" Trials for the Trigger Happy Trials to be available.)
As a fun Easter Egg, the Jaeger's Family Basement is also an accessible location on the island. Just as this basement contains many secrets in the story of Attack on Titan, its exact location in Anvil Square is a secret too.
The Eren Jaeger Outfit is unlockable in the Battle Pass by completing the Eren Jaeger Battle Pass Quests in Battle Royale Chapter 4 Season 2. Meanwhile, the Captain Levi and Mikasa Ackermann Outfits are available in the Item Shop.
Fortnite has been cranking up its anime crossovers lately. The game launched a collaboration with the Naruto series in November 2021, and its second part launched last June. A Dragon Ball collaboration launched last August, and a My Hero Academia collaboration followed in December.
Sources: Fortnite Blog, Email Correspondence
---