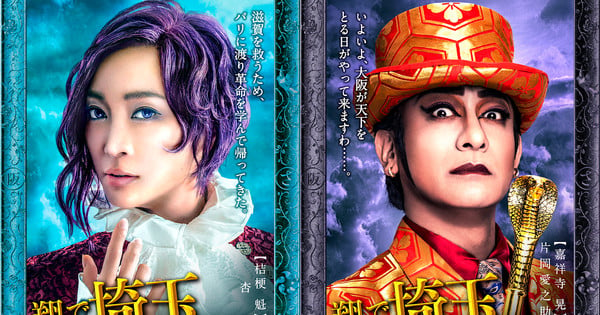 Curated From www.animenewsnetwork.com Check Them Out For More Content.

Flag Pictures revealed two additional cast members, character visuals, and a character video for the Tonde Saitama ~Biwako Yori Ai o Komete~ (Fly Me to Saitama: From Lake Biwa With Love, an apparent homage to the James Bond novel and film From Russia with Love) live-action sequel film on Tuesday.
The new character visuals are for Gackt as Rei Asami (images below, upper left on both) and Fumi Nikaidō as Momomi Dannoura (upper right). The newly announced cast members Anne (Anne Watanabe) as Kai Kikyo, the beautiful nobleman of Shiga Prefecture (lower left), and Ainosuke Kataoka as Akira Kashoji, the ruthless governor of Osaka (lower right).
Ryō Katō, Tsubasa Masuwaka, Maju Ozawa, and Shoko Nakahara will also return in the film as Nobuo Shimokawa, Okayo, Sazae, and Awabi, respectively.
The sequel film will premiere in Japan on November 23. The film was delayed from its original planned opening last year. The staff had put its production on hold following lead actor Gackt's announcement of an indefinite hiatus in September 2021. The hiatus was due to an early onset neurological disease that was progressing into a "life-threatening condition," resulting in dysphonia (disorder of the voice). Gackt announced in May 2022 that he was steadily recovering physically, and the film resumed production in October 2022.
The sequel film centers on the second phase of the "Japan Saitamization Plan" of the Saitama Liberation Front led by Rei Asami (Gackt) and Momomi Dannoura (Nikaidō). Seeking greater freedom and peace, the group heads to the Kansai region in the west, where an incident between the east and west will spark a fierce battle.
The first Tonde Saitama (Fly Me to Saitama) film opened in Japan in February 2019. The movie sold 191,000 tickets for 259,038,800 yen (about US$2.33 million) on in its opening weekend to top the Japanese box office.
Maya originally launched the one-volume manga in Hakusensha's Hana to Yume magazine in 1982. Takarajimasha published a new compiled version of the manga in 2015 titled Kono Manga ga Sugoi! comics Tonde Saitama. The manga has over 660,000 copies in print. Maya also created the Patalliro! comedy manga that inspired several anime projects.
Source: Press releases