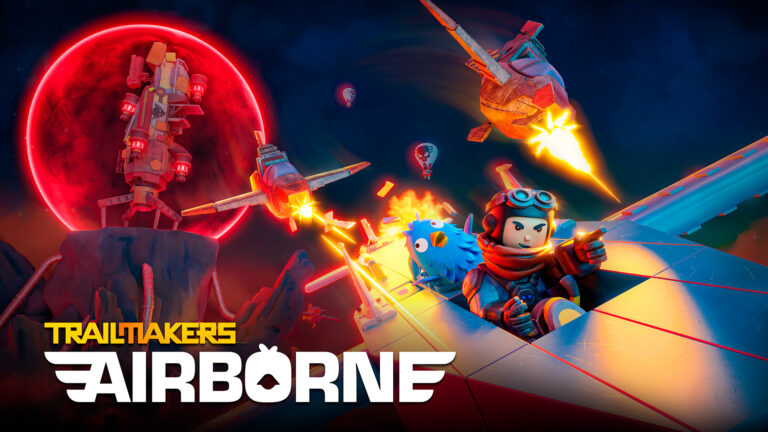 Johannes Kjems, Community Manager, Flashbulb Games

Curated From news.xbox.com Check Them Out For More Content.

At Flashbulb Games we have built on the success of Trailmakers by making a DLC titled Trailmakers: Airborne — a mission-based campaign bringing the biggest map in the Trailmakers universe, new parts, NPCs and enemies, launching April 27th, 2023
Before jumping into the new and exciting Airborne world let us give a brief explanation of what Trailmakers is to those unfamiliar with the title.
Trailmakers is a block-based vehicle building game. Vehicles can be used in many ways: to complete the main campaign, "Stranded in Space" – to fool around in sandbox-mode – to battle each other in PvP,  or just to be uploaded to the public workshop for everyone to download and use.
Trailmakers: Airborne
With Trailmakers: Airborne we are preserving the element of creativity and engineering that made the base game succeed, while at the same time introducing a full fledged single player campaign complete with friendly NPCs, enemies and a grand world to explore.
In Airborne you will be transported to the Chirpo homeworld that is undergoing a devastating invasion by Robot Pirates. It will be your job to fend off the invaders and restore peace.
Meet the Chirpos
NPCs named Chirpos occupy vast areas of the new Trailmakers map. They are friendly, they are fuzzy and ironically they are flightless.
They hold up in villages. Each village has a Mayor who will ask you to bring back the local Chirpos that have been kidnapped by Robot Pirates. By doing so, the Mayor will reward you with new parts you can use to make an even bigger, badder and more agile aircraft that you will need in your challenging endeavors.
From ground speeders to blimps, agile dogfighters and flak cannons — they will use anything at their disposal to ground you and maintain their iron grip on the Chirpo Homeworld.
In a Nutshell
Trailmakers: Airborne is a natural step for our most beloved title. Our community's top engineers will have new parts to use for their increasingly impressive workshop builds and those who thirst for adventure are in for a treat.
Fight Robot Pirates
What's more intimidating than Pirates? Robot Pirates, obviously. Unlike their human, wooden-legged predecessors, these guys have a vast range of technologically advanced and equally dangerous weapons. Get ready to save the Chirpos planet and live a unique adventure on April 27th!
---
Trailmakers Deluxe Edition
Flashbulb Games

$37.99

$30.39
Trailmakers Deluxe Edition includes:
– Trailmakers – The full Game
– Trailmakers Hat Pack
– Trailmakers Skin Pack
– Trailmakers Skin Pack 2

Build a car, a plane, a boat or maybe a… carplaneboat? With Trailmakers intuitive builder, it is as easy as snapping together real building blocks. Take your machines on dangerous exploration missions, breakneck rally races, or go to the sandbox and build that hovercraft you have always dreamt about.

Build intuitively with modular blocks – it is easy to get started, and the possibilities are almost infinite.
Explore a vast open world and escape the planet in the survival game mode "Stranded in Space"
Go on breakneck rally races with vehicles of your own making.
Create without constraints in two sandbox maps full of jumps, half pipes, an aircraft carrier, catapults and other crazy obstacles.
Compete on the global leaderboards in rally and race mode.
Four player drop in drop out multiplayer game modes.
An active and growing community with tons of premade vehicles ready to test.
There is always something to do: Join the Trailmakers Rally, take on challenges, play in the sandbox, race your friends or shoot each other to bits.


If you want to know more about our plans and what the current players are thinking then check out our discord server: http://discord.gg/trailmakers