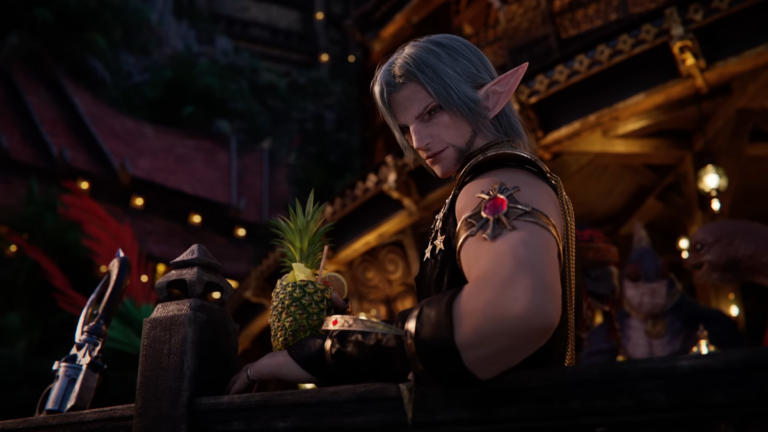 Andrea Shearon

Curated From www.pcgamer.com Check Them Out For More Content.

Grab your swimsuits and catch up on MSQ; Final Fantasy 14 is taking us oceanside yet again with version 7.0, Dawntrail. The fifth expansion to the MMO kicks off a brand new arc after Endwalker wrapped up some of its most significant plot threads.
We're a long way out, but director and producer Naoki Yoshida already has plenty to talk about, and the fan base is, of course, always ready to speculate. If you're running out of jobs to level or just antsy for new companions, there's hope on the horizon—here's everything we know about Dawntrail, along with a few of our best guesses on the future of FF14.
When is the FF14 Dawntrail expansion release date?
It's not an exact date, but Square Enix confirmed FF14 Dawntrail will launch in Summer 2024. Yoshida mentioned he'd love to get the expansion out "as early as possible" in the keynote but wants fans to remember that it's summer "generally," just in case the MMO needs a little more time to cook. 
The game's history tells us delays aren't out of the question but are typically shorter waits. FF14's first three expansions all launched in June or July, while Endwalker pushed its original November date back by two weeks, where it launched on December 3, 2021.
How much will Dawntrail cost?
In all likelihood, FF14 Dawntrail will cost $59.99 at launch. That keeps it in line with previous additions, but Square Enix hasn't said anything officially. You'll still need to pay the $12.99 monthly subscription fee and purchase the Shadowbringers and Endwalker expansions. 
In addition to the base game, Square Enix has always offered a digital and physical collector's edition, so the same will likely remain true for Dawntrail. For those interested in a headstart, the early access weekend is always gated behind a preorder—though you'll probably have that with just the base version. No need to fork over the cash for a plastic statue.
Here's the FF14 Dawntrail reveal trailer
On July 28, 2023, Square Enix revealed Dawntrail with this bright and sunny trailer at FF14 Fan Festival in Las Vegas. Typically, Yoshida shares something like this at the North American event and an extended cut of the CG debuts at either the Japan or Europe shows. 
FF14 Fan Festival's Dawntrail announcement keynote
As the first of three planned between now and January 2024, Yoshida's keynote in Vegas gave us a broad look at the upcoming expansion and how FF14 will change in patch 6.5. I've timestamped the beginning, but this goes on for about an hour and a half, so you may want to get comfy with a little Realm Reborn Red before hitting play. 
What's the story and setting for Dawntrail?
The Zodiark and Hydaelyn era is over, but plenty remains unexplored in the world (folks who have finished Endwalker—remember Emet-Selch's speech). In the spirit of beginning anew, Yoshida joked he wants to bring "the very best summer vacation a hero could have" with this expansion. Some of us are still coping with ugly crying over Endwalker, so it's appreciated. 
For Dawntrail, our next destination is now set for what players may know as "the New World," actually called Tural by its people. The Warrior of Light will help with the land's Rite of Succession, determining the next ruler with familiar friends Alphinaud, Alisaie, and Erenville. Other scions like Estinien, Thancred, Y'shtola, Graha, and Urianger also come along, and Yoshida teased they're all involved in a contest for the throne–with some of them competing against you.
You'll journey across the Indigo Deep into places we've never seen in FF14 thus far, searching for the land's "fabled gates of a city of gold." Whether that's an actual place or a metaphor for something more remains unclear.
Everything revealed at FF14 Fan Festival 2023
New Hub City
Tuliyollal, located in northern Yok Tural, is the seat of power on the continent and your new base of operation. Think of it like key cities from previous expansions (Radz-at-Han, The Crystarium, etc). So far, we only know a few basics about Tuliyollal. It's ruled by a two-headed Mamool Ja, Gulool Ja Ja–he looks like the same big dude who fought the Warrior of Light in the trailer. Yoshida described him as "strong and wise," and his throne will play a big part in the new story direction. 
Field Areas
The keynote presentation introduced new areas like Urqopacha, home to "peoples both exceedingly large and unusually small in stature." It's a mountainous region, originally the capital of Yok Tural, but traces of the former empire now sit in ruins. 
Dawntrail also takes the Warrior of Light to Yak T'el, a thick forest accessible from Tuliyollal. It seems primarily inspired by rainforests in South America, and is home to both the Hrothgar and Mamool Ja.
Tribe Quests
So far, we know FF14's next chapter will include The Pelupelu, a tribe Yoshida acknowledged is from an "older Final Fantasy." For the unfamiliar, they're in Final Fantasy 10 and 10-2, but are probably more recognizable from the sequel. Typically, FF14 has three Tribes per expansion, so we'll likely see two more introduced before Dawntrail's release. 
Additional 7.0 and beyond reveals: 
Level cap increase from 90 to 100
Battle Content (Hunts, Fates, Maps, Sidequests, Standard Dungeons)
Variant Dungeons, Alliance Raids, 8-Player Raids, and Ultimate Raids
New Trials, including Valigarmanda
Plans for new Deep Dungeon, in addition to more battle content
Blue Mage update
Duty Support update
Additional gear and crafting recipes
Lifestyle content (features like Island Sanctuary)
PVP updates to Crystalline Conflict, Rival Wings, and Frontlines
More Hildibrand adventures
Gold Saucer, to which Yoshida scolded the crowd with "no Blitzball."
What will the new FF14 Dawntrail jobs be?
Dawntrail will add two new jobs to the FF14 universe, but we don't know their identities yet. Yoshida played it coy at his North American Fan Fest reveal, refusing to show either of the new jobs this early, but he did give us a hint along with confirming their roles as a melee DPS and ranged caster DPS. When pressed for more, he joked about how hot Vegas was and took off his shirt to show the Teenage Mutant Ninja Turtles graphic tee underneath. Nice glam, Yoshi-P, but why's that important? 
Well, he does this every expansion cycle—whatever shirt he's got on at Fan Fest is a wink and a nod to upcoming FF14 jobs. The TMNT fit isn't just because he's a big Donatello fan, and the four fighting turtles likely share some similarities with one of the new DPS classes. The most obvious choice, Ninja, is already in the game, but the Pictomancer from Final Fantasy 6 has become a popular fan theory. The whole turtles-named-after-famous-dead-painters thing checks. 
The second DPS could be Corsair—a job from Final Fantasy 11 that has roots in the Gambler class (also in FF6). The Warrior of Light stand-in looks awfully pirate-like in the new trailer, but it's hard to tell what he's got in his hand. We see him with a sword later on, but that's half the population of Eorzea by this point. Whatever it is, we'll likely see it in the next cut of FF14's CG trailer. 
Dawntrail's big graphics update
FF14 has already started updating textures here and there, but Yoshida said they have big plans for 7.0 and beyond. At Fan Fest, he explained Dawntrail would usher in a new era of high-resolution textures and shadows, improved material quality, and better shadows and lighting—all of this done "while preserving the overall look that you know and love."
In Dawntrail, you can expect small changes that make a significant difference. Shiny textures, like metal, will receive a layer of polish that gives them actual depth—so no more indistinguishable flat greys. Character textures add more defined lashes, wrinkles, hair, and eyes, while new lighting and other material updates breathe new life into locations around FF14's world. Yoshida also reminded folks this is a long, ongoing process, so you won't see everything magically change overnight.
What else can we expect from FF14 7.0 and onward?
Theorizing about the next big bad in FF14 is entertaining enough, but there's plenty to cheer about that gets a little more in the weeds. System updates coming to FF14 include tons of new goodies, like: 
Dye changes (using two dyes on one gear piece instead of one)
Eyeglasses (strictly glamour equipment slot that can be used with headgear)
Strategy Board (whiteboard feature for discussing and fight mechanics)
Those new shadow and lighting upgrades demand a little more power, too. As of FF14 7.0, you'll need to double-check your PC specs with new system requirements: 
Minimum System Requirements:
OS: Windows 10 64-bit, Windows 11 64-bit
CPU: Intel Core i7-6700
Memory: 8GB
HDD/SSD Space: 140 GB or more
GPU: Nvidia GeForce GTX 970, AMD Radeon RX 480
Resolution: 1280×720
Recommended System Requirements:
OS: Windows 10 64-bit, Windows 11 64-bit
CPU: Intel Core i7-9700 or higher
Memory: 16GB
HDD/SSD Space: 140 GB or more
GPU: Nvidia GeForce RTX 2060, AMD Radeon RX 5600 XT
Resolution: 1920×1080
When will we find out more about FF14's next expansion?
The wait for more FF14 Dawntrail news shouldn't be a long one. Square Enix still has two more Fan Festivals for debuting additional content on the way in version 7.0. You can check back here for the rundown or tune into the livestreams for Europe's event on October 21, 2023, and Japan's on January 7, 2024.