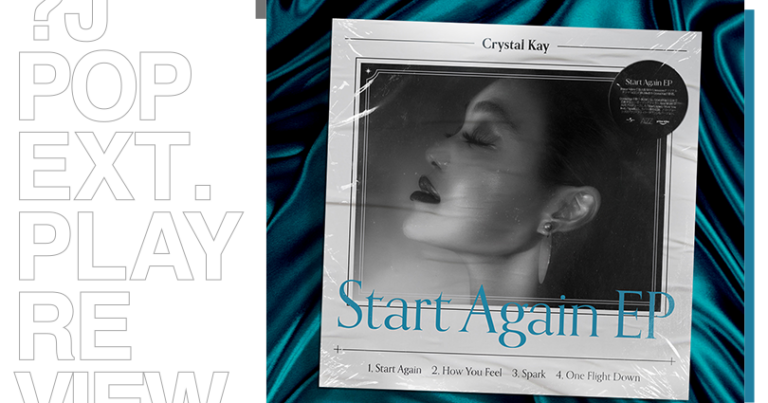 Curated From randomjpop.blogspot.com Check Them Out For More Content.

The quality of Crystal Kay's music over the past couple of years has…not been great. So, I will admit; my expectations for these new songs were in the gutter. And this was not helped by Amazon, Universal and LDH making zero fuss around these songs, the way in which they should have. But this is no surprise, given that we are now in the tenth season of 'Crystal, They Don't Care About You'. If your management team and record label isn't going to support you and make a big deal over the fact your songs are a part of an Amazon Video series, which is a comeback for one of the Heisei era's most popular talents, then maybe you need to print off a copy of that termination letter. But that's a whole 'nother post.
The songs on the Start Again EP all feature in the Amazon Video Japanese drama A2Z. And three of the songs on the EP were written and produced with the show in mind, and therefore relate directly to the story.
A2Z is an adaptation of Amy Yamada's book of the same name, which centres around a middle-aged woman finding love again, after being in a marriage which was wholly loveless and then discovering her husband has fallen in love with somebody else. And as with all good love songs, the lyrics are written to a very specific instance, but still remain completely universal. The titular song "Start Again" could be applied to a number of situations aside from finding love again. Lyrics about swiping left and swiping right aside; it could be a song about finding yourself again, teetering on the edge of wondering if you should move somewhere and start your entire life over, or trying to make another go at a relationship with somebody you became estranged with. And whilst we're on the topic of "Start Again", let's really get into this song, because it is one of Crystal's best original ballads in YEARS. And yet it's being flung out as a digital single with no music video or promo!?
Gurl, fire the whole management and marketing team.
Crystal Kay – Start Again | A Virgin Music release; ℗ 2023 Universal Music
"Start Again" was a great first choice to soft release (I'm being generous) onto streaming services, because it truly does set the tone for the EP, and what to expect from the other songs: smooth vocals, lounge jazz, and vignettes as opposed to full songs structured in the traditional sense. The only exception to the final point is the cover of Norah Jones' "One Flight Down".
There is a very clear story told through each of these songs. It was actually "Start Again" which made me start watching A2Z, only for me to realise that the songs were far more interesting than the drama itself. A2Z is boring as hell, despite it touching on some cool stuff and looking at relationships in ways that Japanese dramas have become far bolder about over the years. But the EP literally tells the whole story of A2Z. And the moments in the show during which the songs are featured do not make the songs any better. If anything, they undersell the songs. A2Z has a really budget look and feel about it. Everything is so flat. The whole show looks drab. The cinematography is dead. The songs are so beautiful and rich, that the moments at which they're used needed to match this. It's unfortunate to say that it's no wonder Crystal got this gig. Meanwhile Hikaru Utada's music is in a Netflix show with great production and gorgeous cinematography, used in moments which really anchor the songs.
All of the songs on the Start Again EP are produced by Emi Meyer, who is also the pianist in each of the songs, and the sole songwriter of "Start Again". Emi acts as a great companion to Crystal Kay. Everything she does is in service to A2Z's story and Crystal Kay's voice. Emi's approach is very selfless in an industry where producers (usually men) and writers often place such an imprint on their songs that it becomes more about them than the song and the artist who is the face of it. It'd be great to see what Emi and Crystal could deliver outside of the creative confines of a Japanese drama. Some of Crystal's best songs over the years have been those written by women, which is why it was such a shame that her cover album was so male-centric.
Crystal Kay's voice continues to get better with time. But for how much her voice has grown and with the number of albums she's put out over the years, she has never sounded quite how she does on this EP. I don't think I've heard Crystal sing with such longing and sincerity before. There is so much feeling in the way Crystal sings these songs, especially "Start Again". This is more of what I wanted from Crystal on "Love Me". BITCH. SELL ME THE EMOTION. And on her cover of Norah Jones' "One Flight Down", Crystal is making so many cool choices as she sings. Her tone. Her volume. Her runs. It's a reminder to everybody that she can SING sing. It's probably one of the most masterfully sung songs that she's put out in a while, because you can just hear the level of skill and vocal control that she has throughout.
Crystal continues to be one of the most talented singers in Japanese music, who takes her voice and her talent seriously. There is also a definitive sense that not just any ol' Japanese act could sing these songs quite like Crystal. Many could try. But they wouldn't sound as good. It's what makes it so frustrating to me as a fan that her team is fucking around when it comes to promo, the music she puts out, and the venues she plays at. Crystal Kay should be a household name who is still releasing music which charts on the Oricon and is touring arenas and domes.
It's really crazy to me how Crystal Kay throughout her career has always recorded great ballads which could and should have been singles, but never were. And then when Sony and Universal decided 'We're gonna make Crystal Kay release ballads now', they had her release the most boring shit. I will never understand why Universal didn't shop "Memory Box" as a J-drama theme / insert song, and have it be a single from Vivid. But that's a whole 'nother post.
"Start Again" should have been pushed as a fully-fledged promotional single, with a music video, televised performances, a truck driving around Shibuya with Crystal Kay on the side of it blasting out the song. Everything. And she could have recorded a Japanese version as well, as not to leave any of her non-English speaking Japanese fans out. And despite the vignette-ey approach to the whole EP, "Start Again" is the longest of the original songs and the one which feels the most full; as though it may have been approached with the intent of it perhaps being a single. The song is beautiful. It makes zero sense to me that Universal wants to push Crystal as a ballad artist, but continually keep soft releasing her ballads and doing nothing for the ones with the potential to be smash hits. "I Love" should have gotten a huge promotional release, and the same goes for "Start Again".
Looking at this EP within the grand scheme of Crystal Kay's career and where it's at right now, I'm continually confused as to what exactly her team are doing with her music. There is no through line, no story, no growth, and no consistency between I Sing, the singles released over the past 2 years, and this EP; other than how badly they have all been promoted. And as good as I think Start Again is, I don't think it can be used as any form of way marker to determine what comes next for Crystal Kay musically. Start Again is one of the only releases post I Sing where I feel there is something worth actually building on. Being given moments to settle into the delicateness and richness of her voice, singing in both English and Japanese, and being backed by lush production with live instrumentation is a sweet spot for Crystal. It always has been. But whether anybody in Crystal's team has taken note of this is anybody's guess. Because whenever Crystal releases something good these days, it always feels like a fluke, and it gains no traction any way.
FOR ME, I think it would be wise to have Crystal release another follow up to I Sing, but with a lounge jazz theme, and then have that shit tour around Japan. And the album should feature half self covers and half covers of other people's songs, with far better choices of other people's songs than we saw on I Sing. Play the game. Cover the songs that will get the attention and go viral. Fuck it.
HENNYWAY.
Back to Start Again.
This is a really nice EP. Not only does it feature solid songs, but it manages to push Crystal forward creatively as an artist, and in a way which charts a new direction for her. "Gimme Some" was cool for what it was, but we'd heard Crystal rap before. And it was kinda clear that this was just a fun moment which wouldn't and couldn't really go anywhere. But with Start Again, there is something worth building on here. And it's the first Crystal Kay release in years which makes sense to me. There is a vision here for where Crystal could go, but she doesn't have the team to realise it and help get her there. But futures aside, it's just nice to have a CK release which truly showcases Crystal's talents. And it's great to hear that even after 20 years in the game, and having shit teams and shit record label situations, Crystal is still serious about her craft, and keeps getting better at it.
Crystal should take the title of this EP seriously and truly consider starting again and thinking about how she wants to move forward. And Start Again would be a great block on which to start rebuilding.
Verdict: C2K
Highlights:

▪ Start Again 🏆

▪ How You Feel

▪ One Flight Down 🔥
---