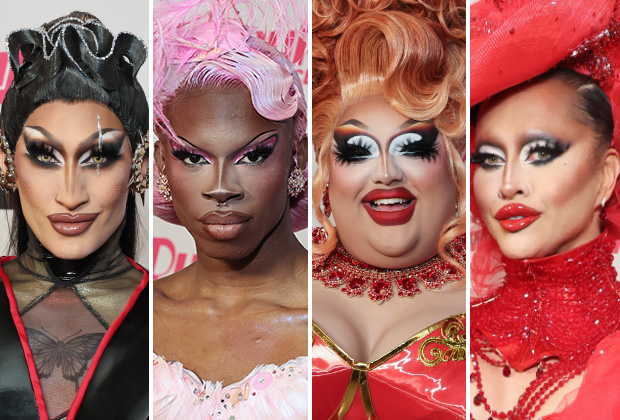 Andy Swift

Curated From tvline.com Check Them Out For More Content.

Another season of drag delusion, canned bits and letting loose came to an end on Friday with the finale of RuPaul's Drag Race.
The final four queens of Season 15 — Anetra, Mistress Isabelle Brooks, Luxx Noir London and Sasha Colby — walked their f–ing ducks one last time in a series of ferocious lip syncs, leaving nary a crumb on the stage.
To say that it was still anyone's game atop the 90-minute finale, however, would be a lie. As talented as Mistress and Luxx may be — and they are both very talented! — Anetra and Sasha were always the clear frontrunners. Not only did they win the most challenges this season, but their lip syncing is simply on another level. Heck, I gave up trying to decide between these two last month, formally declaring my desire for a Sasha-Anetra tie.
So, did the drag gods deign to answer my prayer with a shared win? Let's find out:
The finale kicked off with individual performances from each of the four finalists, beginning with a highly physical performance from Anetra that allegedly had to be reworked due to its difficulty, followed by a fashion-forward number from Luxx.
Dressed like a sexy nurse, Mistress then performed a song about — what else — drag delusion. (Queen of branding!) And Sasha got the on its feet with "Goddess," a hair-raising performance which transformed the front runner into a snake.
Unfortunately, it was then Ru-vealed that only two queens could move on to the next portion of the finale, so we had to say goodbye to Luxx Noir London and Mistress Isabelle Brooks.
This was followed by the crowning of Season 15's Miss Congeniality. And the winner is… Malaysia Babydoll Foxx! Honestly, I was half expecting this one to be a tie between innocent souls Sugar and Spice, but I'm starting to think I'm just really hungry for a tie.
And so, as has been written on cave walls for centuries, Sasha and Anetra were revealed as the Top 2 queens of Season 15. I'll pause for surprised gasps. … Oh, none? OK then, let's talk about the lip sync showdown we've all been waiting for.
Amii Stewart's "Knock on Wood," last heard during Alexis Mateo and Stacy Layne Matthews' Season 3 smackdown, served as the final lip sync track of the season, and both Sasha and Anetra truly gave it their all. Their bodies, their souls, probably a few years off their knees — their all.
For Sasha, it was reveal after reveal. She began the battle in a dramatically oversized puffer jacket, which she ditched for a sparkly evening gown, which she later dropped to showcase that famous body-ody-ody. The sight of Sasha swinging her hair around in that stunning burlesque-inspired number was truly something to behold.
Anetra also opened up her usual bag of tricks, including yanking her heart right out of her body (suit) during an emotional climax.
Yet only one queen would stand before Mama Ru and accept her place in the Drag Race Hall of Fame…
ELIMINATED: Anetra (2nd place)
WINNER: Sasha Colby!
I may not have gotten my dream tie, but I also can't even pretend to be upset about this queen winning. If the crown had to remain intact, I'm glad it's resting proudly on her head. All hail!
Your thoughts on the outcome of Season 15? Did anything, from Malaysia being named Miss Congeniality to the finalists' elimination order, take you by surprise? Whatever's on your mind, let it all out in a comment below.