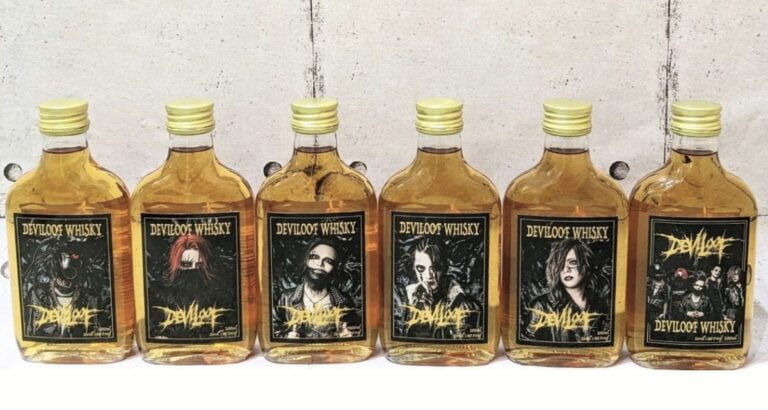 Curated From jrocknews.com Check Them Out For More Content.

Hardcore rockers DEVILOOF announced an official release of whisky and sparkling wine, available to fans living in Japan. Reservations for the mail order-only product opened on March 24, and shipping starts around April 10.
The German whisky comes in "pocket" sizes of 200 ml bottles (or about 6.8 oz). That comes out to about four shots of whisky, but we don't blame you if you don't want to open the bottle! There is a label for each member as well as a group shot, for a total of 6 different options.
If whisky isn't your thing, DEVILOOF also released an Italian sparkling wine. Although belated, it might be a great way to commemorate the band making its major debut in December.
Not only do these make great collector's pieces, but the price is surprisingly reasonable! According to the web order form, you can order a full set of whisky and sparkling wine for only 7,900 JPY (about 60 USD). It includes one pocket whisky for each of the members, as well as a bottle of sparkling wine for a total of seven pieces.
You can also buy one pocket whisky with your favorite member for only 900 JPY (about 7 USD).
Production company Miyako works directly with the artist to produce official spirits. Their website proudly proclaims they are "A gem that music fans can't miss, for everyone who loves rock and alcohol". They also produced whisky for the rock band NEMOPHILA in 2022, and even dark rum for American glam rockers Kiss.
Although Miyako does not accept orders outside Japan, you can place an order using a forwarding address service such as Tenso. Please note that restrictions on importing alcohol may vary by country (the prior link has a handy chart).
Connoisseurs of Jrock and alcohol will be pleased to know that other artists have also produced official adult beverages. YOSHIKI of X Japan fame regularly produces his series of wines, Y by YOSHIKI. Samurai guitarist MIYAVI also produces his line of Japanese sake, brewed at Kyoto's oldest brewery.