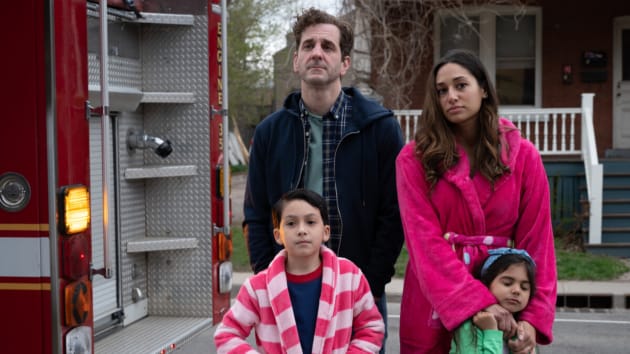 Paul Dailly

Curated From www.tvfanatic.com Check Them Out For More Content.


If you reside in Canada, there's a good chance you've heard of CTV's brilliant comedy series Children Ruin Everything.

The series, starring Meaghan Rath and Aaron Abrams, has been renewed for a third season after connecting with audiences in a big way.

The CW recognized the show was a gem and has added it to the network's Monday comedy block.

TV Fanatic got the chance to speak with series creator Kurt Smeaton about the show's debut on the broadcast network and what's coming up for fans.

Smeaton revealed Children Ruin Everything was derived from his own experience of being a parent, revealing that he had more kids when the show went into production than when he pitched it.

He said the show has deeply rooted questions about whether having more kids is the best idea.

"I related to the central question. Despite the difficulties of having kids, should we have another one? There's this emotional part of it where I felt I was on one side saying, 'Hey, we've got two kids. They're healthy. We don't have much more room, money, or time.'"

"Then my wife's on the other side saying, 'But I really want another kid.'"

"Those two arguments don't intersect in any way, so I think you have to have this emotional, philosophical discussion, and that was sort of the initial impulse to write the script."

Kurt is enthusiastic about the show's premiere on The CW.

He recognizes that the U.S. market is filled with "great material," and was curious how it would be received.

"The CW has been an incredible partner, and we're very proud to have the show be a part of the return to comedy for them."

Smeaton, who previously wrote for Kim's Convenience and Schitt's Creek, also opened up about the crucial elements needed to secure the success of any comedy.

"You want to have good comedy, you want to have jokes and make people laugh, but you want to have those characters and stories that anchor it all, create a story that people can connect to, create characters that people can connect to so that you're not tied to a treadmill of telling jokes and just keeping the audience's interest in punchlines."

Another critical factor is getting viewers "to care and invest in the people and the situation you've created."

Smeaton also touched upon the impressive cast, commenting, "They are a pleasure to work with, talented, and have such great chemistry."

"Meaghan has become a mother herself over the process of making the show, and I think she connects to the content of it much, much more deeply now."

"Even before, she's done a lot of drama and action stuff, but she's a very funny person."

Kurt complimented Rath's comedy timing and the fact that she's a leader on the set.

"I just love working with her," he enthused.

Kurt knew Aaron for many years before working together on Children Ruin Everything, revealing they used to do live comedy together.

Aaron has done much drama work throughout his career, but Kurt believes he's undervalued as a comedy performer.

Smeaton says that everyone on set is very collaborative, with the actors being good at respecting the scripts but also bringing their own nuances to situations for their characters.

The creator revealed that the first episode filmed took place in a car, making for the perfect team-building experience for the cast.

"We had these four cast members who were unfamiliar with each other, and we just put them in a car on a rig for a whole day," he laughed.

"Between takes, they couldn't wander off and look at their phones. They really got to know each other. And part of the real key to the show's success is the four, and now five, key cast members in the family," Kurt adds. 

"They do act like a family. They really do care about each other. They really do love each other. And I think that shines through in the scripts and the episodes."

With Children Ruin Everything Season 1 Episode 5 airing tonight (Monday, August 7 at 9 p.m. on The CW), Kurt opened up about what's ahead.

The episode focuses on one of the children losing a tooth and the lies parents have to tell.

"Sometimes, you're just concealing some harsh truths, and sometimes there are things like Christmas or whatever, where you're trying to bring some magic to their lives," he added.

"This episode's a little bit about when those games end, and you tell the truth. As a parent, it's a complicated thing, so we were excited to write this episode."

Kurt added that there were some kids on set who still believed in the Tooth Fairy, "so it was a difficult juggle to tell this story while also protecting these kids."

That being said, Kurt believes it was a lot of fun for the crew to navigate how not to spoil that for the kids.

I noted that the logistics of that while shooting must have been difficult.

"Yeah, it's like whisking them off the set and making sure they weren't around for certain creative conversations," he shared.

Catch new episodes of the series every Monday on The CW.

This interview has been edited for length and clarity.
Paul Dailly is the Associate Editor for TV Fanatic. Follow him on Twitter.