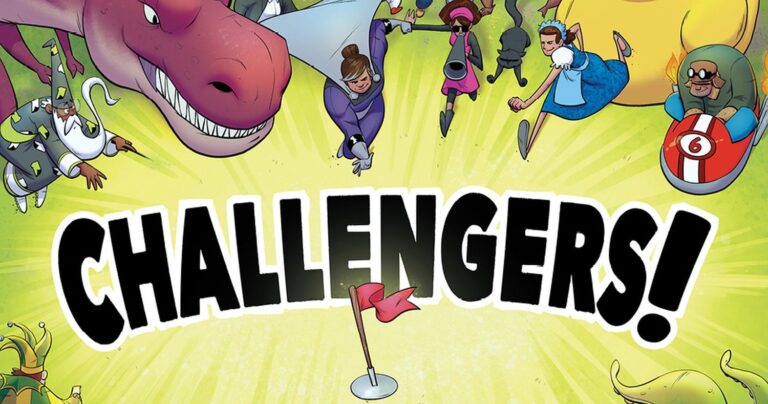 Tommy Williams

Curated From geektyrant.com Check Them Out For More Content.


Last year, Asmodee and Z-Man Games released the deck management game Challengers. The game is designed to more or less create the feel of a card game tournament and you can improve and edit your deck between bouts. Challengers supports 1-8 players and has an average play time of 45 minutes. Asmodee was very kind to provide me with a copy of the game to review, but you can grab your own copy from your local game store or Asmodee's site with an MSRP of $39.99. The game designers are Johannes Krenner and Markus Slawitscheck.
Challengers is an interactive Deck Management game with an original tournament gameplay style for 1-8 players. Play individually or with a group of friends!

Each round, each player improves their deck with new characters and battle against new opponents.

75 distinct characters with more than 40 exciting effects create a unique experience every game!
This game has been a lot of fun. I'm a fan of trading card games and Challengers does a decent job of emulating some of the feelings with playing in a card game tournament, but it is extremely simple. There are two main phases to the game: the Deck Phase and then the Match Phase. The Deck Phase occurs at the start of every round and allows you to add new cards to your deck and even remove weaker ones. During the Match Phase, you'll basically play a slightly more complex version of War until you or your opponent either fill up your bench or run out of cards in your deck. You then repeat this cycle for seven rounds and then if you have more than two people, there is a final round with no Deck Phase where the players with the most fans (gained via card effects and by winning matches) face off one final time to determine the best.
As you might imagine, this means that most of the strategy is in the Deck Phase. You need to balance having enough cards to not deck out with not having too many cards filling up your bench. Luckily, cards of the same name stack, so if you can get repeat copies, you're in luck. There are also cards that move your cards from your bench into a discard pile that you'll want to look for as well. Will you try to go all-in on 1-2 factions or diversify your deck to cover more ground?
Overall, I think this is actually a lot of fun and even my wife, who isn't a big fan of deckbuilding games, enjoyed playing it. Challengers has a lot of fun art by Jeff Harvey and it's honestly one of the biggest draws of the game. The game comes with four fabric playmats which look and feel fantastic and three plastic card trays help you stay organized for the Deck Phase. The game definitely has potential to grow with new factions being added and I'm sure additional game modes could even be designed. Sadly, I didn't have a chance to play with a full group of 8 people, but it was a lot of fun with 4 of us. You will need quite a bit of space and be able to move around the space since each round will have different pairings.
I did try Challengers in the 2-player game and while doable, it's not ideal. The only changes made are that there's no final round and if you ever have 11 fans more than your opponent, you instantly win and the game ends. The trick is that because there's only one opponent, it's a lot easier to have a snowball effect. When there are more people, you have to adjust your deck for a wider variety of matches, but in a 2-player game, you don't have to be as adaptable. I think there are some tweaks that could help it work a bit better, but at the end of the day, it just wasn't the best experience for me.
At the end of the day, I do recommend Challengers for larger groups. The 4-player games were a blast and hopefully soon I can get a big enough group to do an 8-player game. Even if you're not a big fan of deckbuilding games, this might be one to try out.