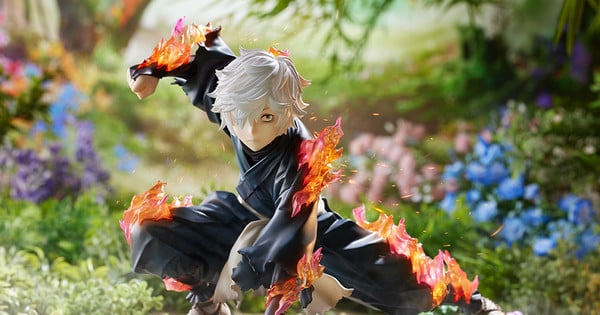 Curated From www.animenewsnetwork.com Check Them Out For More Content.

Between 2016 and 2018, manga artist Yūji Kaku worked as an assistant to renowned manga creator Tatsuki Fujimoto with his work on Fire Punch, Fujimoto's hit series before he would go on to create Chainsaw Man. Yūji Kaku would then leave his assisting duties to begin serialization on his second mainline series Hell's Paradise: Jigokuraku, which ran all the way until 2021. For a while, the series was ranked the most popular manga series in Shonen Jump+. Fast forward to the spring of 2023 where Studio MAPPA, the same studio that was responsible for adapting Fujimoto's Chainsaw Man, would later come around to develop the anime adaptation of Hell's Paradise whose popularity also began rising thanks to its intense action and memorable characters.
Spearheading this cast is a young ninja named Gabimaru, renowned throughout the land as Gabimaru the Hollow for his emotionless and brutal killings. However, deep down, throughout the course of the series, Gabimaru would come to learn that he has a much more human and compassionate side to him that he wrestles with. These emotions are brought about by the love of his wife who he seeks to be reunited with in the series as he traverses an incredibly perverse and off-putting environment that pushes him to his breaking point. Such a layered character has many nuances that need to be done justice and
Kotobukiya
has done an excellent job in providing fans with a figure that does just that.
This 1/8 scale figure was sculpted by Koei Matsumoto and is a part of the company's ARTFX J series. It stands at 138mm tall and is sculpted out of PVC and ABS material. The pose selected for the character is one where Gabimaru stands crouched forward in a battle ready position. His dynamic posture exudes a sense of urgency while his face is sculpted with a calm and analytical expression. Matsumoto pays respect to the character with this facial expression in particular as it feels subtle without coming off as emotionless. The face and mouth look relaxed while the lines around the eyes exhibit a certain fatigue and battle weariness. But as you look closer into those eyes, there is a determination present that's focused on the goal ahead.
Speaking of being ready for battle, as we zoom out and appreciate the finer details that surround Gabimaru's body, it's hard not to see him in anything other than the heat of battle. The attention to detail on all the individual creases on Gabimaru's outfit look absolutely incredible and the slight weathering effects that are present on the surface are just as impressive. Not only does this complement the aesthetic of a well-traveled shinobi, but it also allows the sculpted fire that engulf his body to blend in much more seamlessly. This is most likely not natural fire but rather an extension of Gabimaru's signature flame-based ninjutsu that he uses repeatedly throughout the course of the series. The flames are a nice blend of pink, red, yellow, and orange but the way the colors blend gives an almost mystic glow to them, similar to what you would find in the anime. The fact the flames are slightly transparent is also an amazing attention to detail.
It's clear that Matsumoto and the staff at Kotobukiya understood what made Gabimaru such an appealing character. His layered emotional state, battle ready disposition and eye-catching ninja abilities are all perfectly captured in this single figure. If you're a fan of the anime series or the original manga from Shonen Jump+, then this figure is a must-have. The figure is set to be released in January 2024 so pre-order now while you can!
ARTFX J Gabimaru is available for pre-order here: Crunchyroll Store, Sideshow, BAIT, Amazon, and other Kotobukiya Official Retailers.
If you want to be the first to know about this, and future Kotobukiya figures, subscribe to their email newsletter here.
©YUJI KAKU/SHUEISHA, TWIN ENGINE, MAPPA