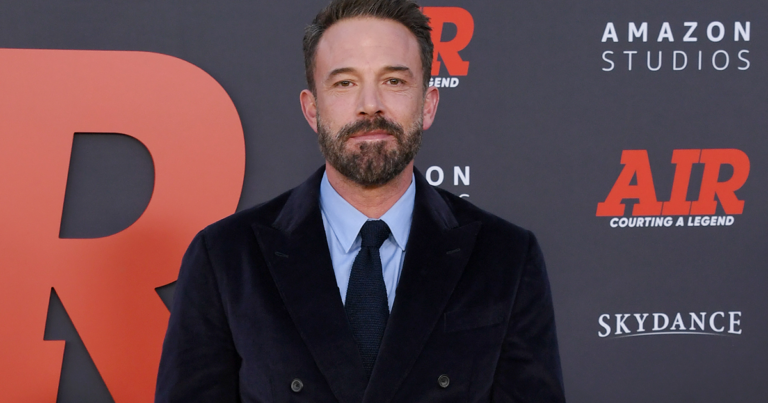 Jeff Ames

Curated From www.comingsoon.net Check Them Out For More Content.

Remember when Ben Affleck was that wide-eyed young man who ran on stage with Matt Damon to accept the Oscar for Best Screenplay for Good Will Hunting? Now, he's a multi-Academy Award-winning megastar actor/director/producer with a kick-ass resume and more than a handful of box office hits under his belt.
Recently, he unveiled his latest critical darling, Air, which tells the tale of Nike's attempts to land Michael Jordan. Where does his latest directorial effort rank amongst his other projects? Read on to see the five Ben Affleck directed movies ranked.
5)
Live by Night (2016)
Ben Affleck audacious Live by Night fizzled with critics and audiences, and with good reason. While incredibly ambitious and visually stylish, the star-studded feature lacks purpose and never quite finds its footing. A couple of cool action set pieces demonstrate Affleck's incredible gifts behind the camera. Still, the script (also written by Affleck) meanders and struggles to find new ways to present old material. 
The story follows gangster Joe Coughlin (Affleck) and his attempts to go straight while dealing with mobsters during Prohibition. Things happen, people say stuff, shootouts occur, and it all ends with a whimper. More problematic, where Affleck's best work feels intimate and personal, Live by Night lacks a soul. It all looks pretty, but who gives a damn when none of it resonates on an emotional level? 
4)
Argo (2012)
I never got the hype for Argo. Sure, it's occasionally tense and intermittently fascinating. Still, I recall enjoying it on opening night, going home, reading the true story, and realizing the film was mostly bullshit. In fact, the true story is far more fascinating in the way various factors contributed to CIA operative Tony Mendez's rescue of six US diplomats from Tehran, Iran. The film plays too much like a love letter to Hollywood than an intricate tale of survival.
Negatives aside, Bryan Cranston, Alan Arkin, and John Goodman are terrific in supporting bits. Affleck's direction is solid, and Terrio's script comes ripe with crackling dialogue. Affleck's performance is par for the course, and one wonders if the film would benefit from a stronger lead in the central role. 
As is, Argo is undoubtedly watchable but a far cry from the cinematic masterpiece many described it as in 2012.
3)
Air (2023)
The most surprising thing about Air is how it makes you root for a billion-dollar corporation, Nike, viewed here as an underdog needing a kickstart. Enter Sonny Vaccaro (Matt Damon), a savvy salesman who spots a young, up-and-coming rookie named Michael Jordan and decides to build an entire brand around him. All that stands in his way are some skeptical bosses and Jordan's mother, Deloris (Viola Davis), who shrewdly negotiates a massive deal for her son. 
Skeptics may scoff at this surprising bit of pro-capitalist cinema, but there's plenty to admire here. And while one could argue the necessity of a film based on millionaires, Air moves briskly and offers fascinating historical nuggets that appeal to business-minded folk.
Damon mostly reprises his role from Ford v Ferrari, while Davis delivers a strong performance as Jordan's strong-willed mother. Affleck's direction is nothing flashy, but the man gets the job done and gives his actors — including a game Jason Bateman — plenty of room to flex their stuff. 
Again, I'm not sure if Air is necessary cinema, but damn, was it fun.  
2)
The Town (2010)
Affleck proved himself a capable action director in 2010's thrilling The Town, yet another tale about one man's quest to escape Boston's ruthless grip – or, at least, that's how I read it. Affleck stars as that man, Doug MacRay, a bank robber with a heart of gold who yearns for more than his provincial life. He eventually falls for a former hostage, Claire Keesey (Rebecca Hall), much to the dismay of his pal James (a superb Jeremy Renner), on the eve of the greatest heist ever.
Yeah, the plot is pretty standard, but damn if Affleck doesn't push the material for all its worth. Working with screenwriters Peter Craig and Aaron Stockard, Affleck finds depth in his characters, wretched as they are, and draws our sympathy. Essentially, The Town is an ethical tale coated in various shades of gray – the breathtaking action sequences are merely a bonus. We're never quite sure whom to root for, and I mean that in a good way. 
The Town may not reach the heights of Michael Mann's Heat, but it's damned close.
1)
Gone Baby Gone (2007)
For me, Gone Baby Gone remains Affleck's best directorial work. A recent rewatch only cemented its status in my mind. Everything in this powerful morality tale works to perfection. The acting by Casey Affleck, Michelle Monaghan, Morgan Freeman, Ed Harris, and Amy Ryan is on point. Aaron Stockard and Affleck's script sizzles. And the ample ethical quandaries are refreshingly complex.
In short, this is a great film. Haunting, provocative, and brilliantly staged. It deserves more recognition than it's received. If you haven't seen Gone Baby Gone, I suggest you watch it immediately. You can thank me later.
For those unaware, Casey Affleck stars as Patrick Kenzie, a private investigator in Boston who gets swept up in a kidnapping case involving a little girl. As Patrick (along with his partner/wife) digs deeper into the mystery, he discovers not everything is as it seems and must work against the clock to save the young girl's life before it's too late.
Again, the mystery is merely the backdrop for a provocative character journey culminating in a surprising twist that sticks with you long after the credits role.