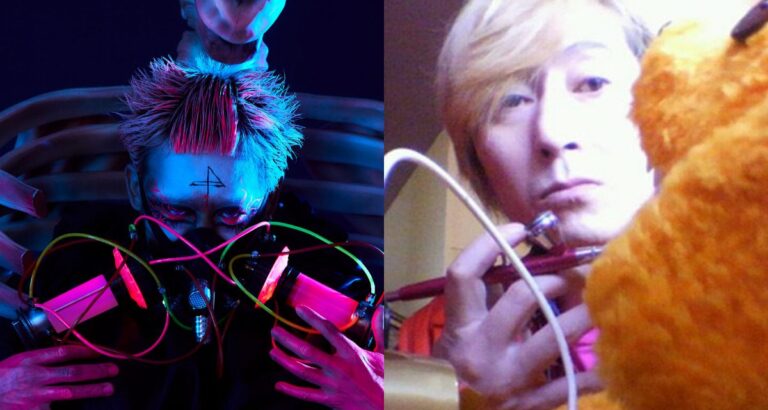 Curated From jrocknews.com Check Them Out For More Content.

As written in the name, the Jrock subgenre visual kei is founded on just that—the visuals. Often otherworldly yet at times macabre and downright bizarre, the elaborate garbs and set designs on visual kei music videos have turned heads around the world via YouTube, Twitter, and even Headbanger's Ball on MTV.
Yet, the thought process that goes into crafting the visuals that defined generation after generation of Jrock has remained relatively obscured—until now.
Join JROCK NEWS as we sit down with Naofumi Yonetsuka, the mastermind behind the eclectic visuals in visual kei's most infamous music videos, including The Perfume of Sins by DIR EN GREY.
---
Yonetsuka-san, thank you for taking the time to speak with JROCK NEWS. To start, please introduce yourself and give us a fun fact about you.
Yonetsuka: Hello everyone, I am Naofumi Yonetsuka of HAUNTED LTD. We create a wide range of artwork, including special effects makeup, sculpting, character suits, costumes, masks, mechanical masks, and animatronics. You can also call me by my nickname, Yonetaro!
Was HAUNTED LTD. always involved in Jrock? How did your relationship with Jrock start?
Yonetsuka: Since our founding, we've tried to broaden our involvement beyond creating makeup with things like prototypes for figures and dinosaur animatronics. As you'd expect, we established our connection to Jrock via DIR EN GREY, and our partnership continues to this day.
Do you listen to any Jrock or visual kei bands? If so, who are your favorites?
Yonetsuka: I find myself listening to the artists whom we work with all the time [laughs]—DIR EN GREY, THE MAD CAPSULE MARKETS, AA=, LAREINE, 10-FEET, etc.
Let's talk about one of your well-known clients, DIR EN GREY. How did your relationship with DIR EN GREY start?
Yonetsuka: The first displays of our creative expression were the various special effects makeup and sculpting on the 1999 single -Zan- (残). Afterward, we took on the set design for the band's tour held later that year and also put together bassist Toshiya's custom-designed instrument.
What is your favorite DIR EN GREY project to date?
Yonetsuka: I love everything that we were involved with. In particular, going all-in on the makeup for each band member on DIFFERENT SENSE, the mounds of shock elements packed into OBSCURE, and our return to working together after a long time on last year's visually striking Oboro.
If we keep going, I might just end up naming them all [laughs].
Yonetsuka's concept drawing for DIR EN GREY's 2021 music video, "Oboro".HAUNTED LTD.
From sketch to reality, performer Yuko Kawamoto dons Yonetsuka's creation.HAUNTED LTD.
When designing for DIR EN GREY, do you start with ideas that the band submits to you, or do you present your own original concepts to the band?
Yonetsuka: These days, we tend to receive a very clear statement of intent from the artists, and there are fewer instances in which the core idea stems directly from me. With respect to the little details, they tend to agree with nearly all my suggestions. From then on, I tested our skills in turning all this into a nice piece of art.
We saw the bull skeleton you crafted for Kyo, vocalist of DIR EN GREY, in the music video for The Perfume of Sins displayed at the DIR EN GREY café in Shibuya. How was the experience at the DIR EN GREY café? Did you get to try any of the dishes?
Yonetsuka: I opted not to eat or drink at the café, since putting in my reservation would mean one fewer slot left for the precious fans. However, I am incredibly thankful that they got to check out our bull skeleton in person and furthermore went as far as to send kind words to me on social media. I can only feel gratitude for this wonderful opportunity.
Your video for the bull skeleton shows mostly you working on the design and assembly. How much of the work do you typically take on yourself? Is it a one-man operation, or do you have a big team working behind the scenes?
Yonetsuka: After I'm done with the design, a craftsman welds the frame, a staff member finishes the form, another member adds the details, and I come back to take over the final touches. It takes the four of us about 14 days to produce the entire thing.
You were responsible for many of the props and special effects in OBSCURE, one of the most infamous DIR EN GREY videos to date. What was your inspiration?
Yonetsuka: As I recall, it was music video director Hiroyuki Kondo who came up with the shock elements. Like the infant's head growing on a tree, the man trying to tear a human face off his knee, and the completely dismembered woman, after talking things through with the band members. Some of my original ideas were in there too, like the baby-faced phallus tip growing from the man wearing the Hanya mask and the decision to go with a more cyber tech vs. fleshy design. I also fondly recall the impromptu inspirations from my discussions with the band, which led to the creation of unique visuals that suited each member's taste.
Moving away from DIR EN GREY, we'd like to talk about your personal taste. How have your artistic tastes changed over time?
Yonetsuka: There are some logistical things like planning, designing, and troubleshooting that have gone smoother over time, so I might consider these to be "changes". But I find that working with DIR EN GREY somehow takes me back to my roots, and so I don't think anything really "changed" about who I am.
Is there a project from the past that you wish you could revisit and continue working on with the knowledge and skills you have today?
Yonetsuka: Surprisingly, no! Actually, what I think happens is that any time I've gained new knowledge or skills, I tend to incorporate them into the very next project in our pipeline.
Over the years, you've made iconic looks that define "visual kei" to fans. But what, in your own words, does "visual kei" mean to you?
Yonetsuka: With respect to my career working on each music video, "visual kei" represents my roots.
Do you ever get nightmares about your creations?
Yonetsuka: Maybe this is because I have a constant fear of failure—I have nightmares about a project not going according to plan, even if it's progressing well in reality. For most of these dreams, I wake up the moment I lose all hope panicking, "Time's out! What should I do? This is the end!".
What is your goal for the future of HAUNTED LTD?
Yonetsuka: It's to continue fulfilling the needs of our numerous clients and to further build upon what we've accomplished with artwork that we can feel proud of! Also, we'd like these art pieces to become exposed to an even broader audience.
Thanks so much for your time. To close, please leave a message for our readers around the world.
Yonetsuka: Speaking not just exclusively about Jrock, I've created several pieces over the years while chasing the question, "what can I do to make things interesting"?
From this interview, I was able to appreciate that our art extends further past the musicians we collaborated with, and that beyond their satisfied smiles are their countless fans, who react to our creations with surprise and delight.
As we move forward, I'll continue making interesting things with everyone's thoughts in mind; it would be wonderful if our work could be seen by as many people as possible.
---
Yonetsuka not only creates stunning costumes for musicians but also does work for commercials, and even the Robot Restaurant in Shinjuku. We recommend checking out his website, HAUNTED LTD. for his impressive portfolio. You can also follow him on social media, by checking out the links below.
JROCK NEWS thanks Yonetsuka-san and HAUNTED LTD. for making this interview possible.