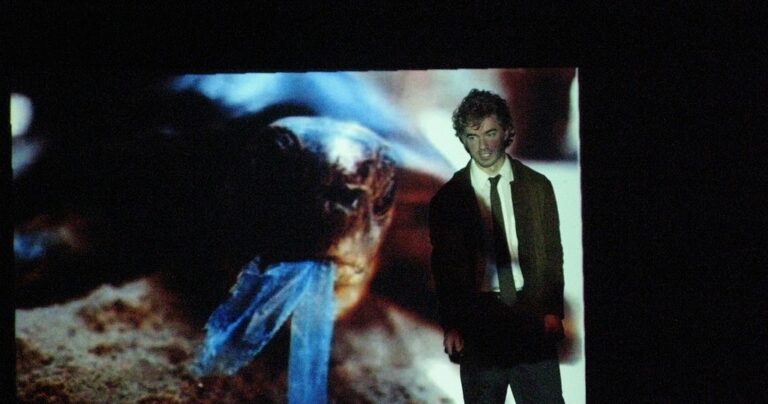 Jody Christopherson

Curated From newyorktheatrereview.blogspot.com Check Them Out For More Content.

Pictured: Rich Lovejoy
The So-fi Festival, proudly presents The Assembly's The Dark Heart of Meteorology, at Westbeth, Home to the Arts (463 West Street, Room 1209, between Bethune and Bank St) June 15th @ 830pm & June 18th @ 7pm. The Dark Heart of Meteorology is written by Stephen Aubrey, Directed by Jess Chayes, Performed by Rich Lovejoy, with Scenic Design by Nic Benacerraf , Sound Design by Asa Wember Video Design by Simon Harding, Stage Management by Devin Fletcher, Emily Caffery, Associate Producer and Lucy Jackson, Producer.
So-fi is a festival for cutting edge, low-fi, high concept, multidisciplinary solo work. Westbeth is New York City landmark listed on the National Registrar of Historic Places since Dec 8, 2009, a home to artists and major cultural organizations including the New School for Drama, The Martha Graham Center of Contemporary Dance, the School for Poetic Computation. The location where The Dark Heart of Meteorology will be performed was the location of Bell Labs' Boardroom where the first talking movie, the condenser microphone, the first TV broadcast, and the first binary computer were demonstrated.
In The Dark Heart of Meteorology, intrepid weatherman, Franklin Elijah White is traveling across the country on an increasingly quixotic journey, aided only by a slide projector and whatever visual aids he can find in the backseat of his car. Battered by personal tragedy and heavy winds, he's taking shelter here for the night, and he comes bearing a simple but devastating message: the weather is going to kill us all. Every single one of us.
The Assembly reimagines their beloved 2009 hit for the age of climate change. A comedy about trying to hold it all together when the sky is falling down.
The Dark Heart of Meteorology plays June 16th, 20th and 21st.
Tickets are currently on sale and will be $25 per single ticket, $36 per two-show double bill ticket. (Please note that Westbeth is handicap accessible with ramps and elevators.) Nearest trains to Westbeth are (1,2,3 to 14th Street). Tickets can be purchased at https://www.so-fi-festival.com/, (888) 692-7878, or in person at the box office 30 minutes prior to curtain (463 West Street, Room 1209, between Bethune and Bank St). Full performance line-up listed below. For more info and a full festival calendar please visit: https://www.so-fi-festival.com/

Tell us about your show? In your own words, what is it/ what is it/what is it about?
Stephen Aubrey: The Dark Heart of Meteorology is a one-man show masquerading as a lecture.
Ostensibly, The Dark Heart of Meteorology is a lecture by Franklin Elijah White, a disgraced TV weatherman who's been traveling across America with what he believes to be a very important message about climate change and the looming threat of natural disasters. In actuality, however, things are a little messier. Franklin is running late, the tech in the room won't cooperate, and there are some looming personal problems that might just derail the whole thing. We shouldn't say too much more because one of the joys of the show is seeing the ways in which this lecture digresses and descends into surprising and strange places (and then sometimes finds its way back to where it's supposed to be.)
On one level The Dark Heart of Meteorology is about our anxiety of climate change–the seemingly impossible challenge that's been presented and the terrifying consequences of what will happen if we fail to meet that challenge. But it's also about choice, family inheritance and personal responsibility. Are we destined to make the same mistakes that got us to this point or can we change? What can we do in a world teetering on the brink of disaster? What can we control and what can't we?

What multidisciplinary elements does it include and how are they used? How are they unique?
Stephen Aubrey: We like to talk about this show as being "barely multimedia."
In Franklin's mind, The Dark Heart of Meteorology is a touring TED talk. But in reality, things aren't nearly that slick. He's come armed with a projector, but he isn't always sure how to use it. His board operators are recalcitrant at best. He's forgotten to silence his phone. And as for visual aids, he's limited by whatever he can find in the backseat of his car.
Part of the joy of all this, of course, is watching Franklin (and the actor, Richard Lovejoy) attempt to improvise around his limitations. In English class, we were all taught some basic categories of stories: Man versus Man, Man versus Self, Man versus Nature. The Dark Heart of Meteorology could perhaps be categorized as (hu)Man versus Occasionally Cooperative Personal Technology. Sometimes he's successful, sometimes he's not; it's a heroic (and comedic) Sisyphean endeavour even if the results are underwhelming.

Why do you make theater? Can you talk about the medium and what it lends to your work?
Stephen Aubrey: One of the most important things about theater is the way it unites everyone in the room. You're sharing something together that no one else will ever know about. Each performance is a one-time only experience and whatever happens is truly happening in front of you. This vitality can be unpredictable and electric. The Dark Heart of Meteorology is explicit about this–it's occasionally interactive and will change significantly from night to night based on the audience in the room–but this is always true about theater.
This allows theater to be powerfully empathic in a way film or literature cannot. Especially in close, intimate quarters (like we'll have in Westbeth at the So-fi Festival), the line between audience and performer blurs. The Dark Heart of Meteorology depends on the exposed vulnerability of its fantastic performer, Richard Lovejoy, who attempts every night to forge an honest and compassionate relationship between a lonely weatherman and his (sometimes baffled) audience. When it works, it is a moving and necessary thing, just like all good theater.


STEPHEN AUBREY (Playwright) is a Brooklyn-based writer and dramaturg. With the company, he has written or co-written THAT POOR DREAM, HOME/SICK, THE DARK HEART OF METEOROLOGY, WHAT I TOOK IN MY HAND, DAGUERREOTPYE and WE CAN'T REACH YOU, HARTFORD, as well as dramaturging all Assembly productions. Other writing credits include MINDCRAFT (Dixon Place) THE LONG GAME (Tiny Rhino) and BRAIN EXPLODE! (The Video Game Festival at The Brick Theater). His writing has appeared in Electric Literature, Publishing Genius, and The Brooklyn Review. He teaches literature and composition in the CUNY system. MFA: Brooklyn College.

THE ASSEMBLY is a collective of multi-disciplinary performance artists committed to realizing a visceral and intelligent theater for a new generation. Assembly members unite varied perspectives in service of wide-reaching, unabashedly theatrical and rigorously researched ensemble performances, crafted to spark conversation with our audiences. Our work embraces the complexities of our present moment; it is a call for empathy and engagement. From workshops to productions to post-performance discussions, The Assembly is dedicated to rooting its artists, audiences, and peers in a profound sense of community. Since 2006, The Assembly has created ten original works that have been seen in Edinburgh, Connecticut, Philadelphia, Los Angeles, and throughout NYC at La Mama, The New Ohio and IRT (through the Archive Residency), JACK, Horse Trade, and others. We've explored topics such as the ruthlessness of capitalism in the Gold Rush and the Dot-Com Boom and the politics of 1960s radicals. A feature article about the company was published in TDR in 2016. https://www.assemblytheater.org/