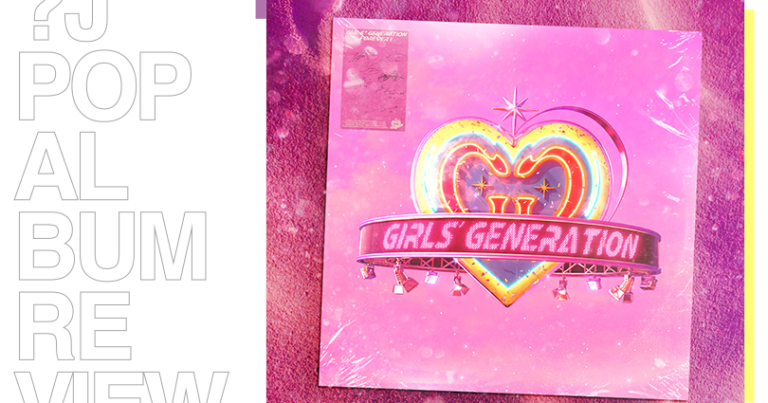 Curated From randomjpop.blogspot.com Check Them Out For More Content.

"Forever 1" was bad. I'm sure many of us can agree on that.
No fan can tell me that after 5 years, THAT was what they wanted to hear Girls' Generation come back with. It was such a bland song, which showed absolutely zero growth for the group. None of the girls sounded committed to it as they were singing it. It's like even they knew that the song was some bullshit. Kenzie and Moonshine are too damn talented to have shat this song out. It's not only a bad title track, but it's one of the worst songs on the album.
I get that SM wanted to cash in on the nostalgia of Girls' Generation being back. But "Forever 1" truly did feel like Girls' Generation were brought back out of stasis; like nothing had happened in-between it and "Holiday". But this is par the course for SM Entertainment and Girls' Generation. The group will be forever stuck.
Girls' Generation – Forever 1 | SM Entertainment
After "Tell Me Your Wish (Genie)", SM really struggled to settle on a look and a sound for Girls' Generation, and this became all the more apparent when f(x) debuted. A group who had a defined sound and look out the gate, which was consistent and evolved. All the while, SM were throwing shit at the wall with Girls' Generation to see what would stick, and sometimes just giving them songs and concepts which would have been better suited to f(x) (i.e "I Got a Boy" and "Catch Me if You Can"). But SM have an identity crisis when it comes to all of their acts at the moment, so "Forever 1" is a case of old habits being infected by a fungus and refusing to die. And it's unfortunate that SM led with "Forever 1", because it is not reflective of the album at all. Not even remotely.
Taeyeon of Girls' Generation – Forever 1 | SM Entertainment
Girls' Generation's Korean albums are not great. They tend to be pretty formulaic, and go to no real length to truly showcase any member of the group. Not even Taeyeon. But what I have chosen to go with, is that Girl's Generation's thing is being formulaic and a bit mediocre; and this isn't automatically a bad thing.
The fact that Girls' Generation debuted as these regular girls who aren't exceptional at anything is what made them so relatable and beloved, and I say that with zero shade. Girls' Generation's thing has never been about being this super polished package, and looking like a group who are trying to be the next best thing. It's always been about them being regular. But the problem with this 'regular girl' shit is, that it doesn't really work now after 15 years. At least not in the same way.
Girls' Generation's fans are older now. The 'Girls' themselves are no longer girls. The world has changed a heck of a lot in the 5 years Girls' Generation were on hiatus. K-pop has also changed. The Hallyu which Girls' Generation kicked off with "Gee" has now fully reached the shores of North America. And Girls' Generation are one of the few K-pop groups from the second generation who are still releasing music. So, there is a level of status that Girls' Generation have now. They aren't just regular girls any more. But SM want to have their cake and eat it too; because whilst the song "Forever 1" presents Girls' Generation as the same girls they were during the days of "Into the New World", the album does not. And it creates a disconnect, which is once again, par the course for SM Entertainment and Girls' Generation.
Whilst the title track and all of the branding around it completely cashes in on nostalgia, the majority of the album seems to want to present a new Girls' Generation. And it baffles me that SM didn't try to strike a better balance of this within the title track itself, because they easily could have done it. But instead, what we have is an album where some will like the title track, but not like the album. Or some will not like the title track, but really fuck with the album. K-pop has long had problems when it comes to albums, how they are propositioned, and the ways in which title tracks are often treated as separate to an album, despite featuring as part of one. And ain't shit changed here.
Tiffany of Girls' Generation – Forever 1 | SM Entertainment
But make no mistake, Forever 1 is not some brilliant, magnum opus of an album. It's safe as hell, and retreads a lot of ground that Girls' Generation was trodden to death. But there is a real sense of a sound and vibe being settled on here, which is promising for the future of Girls' Generation's sound, if SM actually decide to build on this album in the right ways. And some of the songs on this album are genuinely great. Too bad these songs are all backloaded, but at least we get the albums' first solid cut "Seventeen" three tracks in.
"Seventeen" sounds like something you'd hear on one of Girls' Generation's Japanese albums. Girls' Generation trying to do street and edgy never works. But "Seventeen" manages to give edge, whilst still leaning into the brightness you'd expect from a Girls' Generation song; via some nice chord progressions leading into the chorus. It's nice to hear some follow through in Girls' Generation's material for once, as "Seventeen" feels like something the group would do if they were to reunite with Teddy Riley again after "The Boys". "Seventeen" is also one of the only Girls' Generation songs where Hyoyeon's rap feels like a great fixture to a song. She sounds great here.
However.
With Red Velvet as an established girl group at SM, and now GOT The Beat in the mix, I do think "Seventeen" would have worked better with one of these groups; just because they have the range to really sell the edge in ways I don't think Girls' Generation can.
For how hard the beat is on the hook, the lyrics are pretty cute and demure. I think the song would have worked better if the context of 'Seventeen' was that Girls' Generation are no longer seventeen; a declaration that everybody needs to accept that who they were then and who they are now are two different people. But shout-outs to Tiffany and Sooyoung for getting themselves writing credits. Sooyoung is no stranger to penning songs for Girls' Generation, and has also written for Tiffany ("What Do I Do"). She truly has a knack for catchy hooks. If SM were really about fostering talent, they'd consider taking Sooyong on as an in-house songwriter. They can put her in a cage match with Kenzie to decide who gets to write what.
Sooyoung of Girls' Generation – Forever 1 | SM Entertainment
The first half of Forever 1 is really bizarre, because none of it makes sense, but it also does make sense. It makes sense because Girls' Generation's albums have never been consistent. There's never a focus. There's no sense of developing a sound. The songs are always badly sequenced. The uptempos are always frontloaded. So, Forever 1 is just business as usual. But what doesn't make sense is that the latter half of Forever 1 is almost like a completely different album. Where there is a focus. There is a sense of a sound being developed. The sequencing is good. And you feel like Girls' Generation are actually turning a corner musically.
The second half of Forever 1 is shockingly good and consistent, that SM could have just cut the first five songs, and made Forever 1 a really solid 5 track EP. An EP for a comeback after a 5 year hiatus would have felt treacherous to fans. But it would have made for a stronger offering, seeing as SM can't seem to get a solid top to bottom Girls' Generation LP out the door.
Seohyun of Girls' Generation – Forever 1 | SM Entertainment
Where-as the first half of Forever 1 seems to be stuck between wanting to remind fans of the days of "Into the New World" and making a bid to show that Girls' Generation are still 'hip', the second half is pretty vibey and has no real agenda. It's just five smooth, chilled songs back-to-back. Whilst Girls' Generation are better known for their bubble-gum pop offerings, some of my favourite Girls' Generation songs are their slower songs. "Only One" was a highlight on Holiday Night. "Talk Talk" is a standout song on Lion Heart. "Promise" is one of the best songs on I Got a Boy. So it's nice to have a Girls' Generation album which sits in this sound for more than one or two songs, and delivers with each one.
The midtempo city pop-esque "Closer" really should have been released as a promo song, as it perfectly manages to showcase a more elevated and grown Girls' Generation without feeling like it's pulling too far from what some fans would deem their bread and butter sound. I never would have thought that Girls' Generation would give me a sexy, Stevie Wonder esque slow jam, but here we are with "Mood Lamp". This song has no business being this good and this sexy. It sounds like something I'd expect from TaeTiSeo, especially after their pretty-damn-great cover of Destiny's Child's "Cater 2 U", where they showed that they could do smooth and sultry, and that it was something they could do pretty naturally. The sexy carries through into "Summer Night", but with more of a bounce to it. This is a song you can slow rock to, or buss a mean 8-count to. Another great song which alongside "Closer" would have made a good promo song, given how well it balances the old and new of Girls' Generation.
"Freedom" is like if somebody chose to remix Anita Baker's "Sweet Love" and give it a cute lil' bounce for radio. It's a really good song, and one which I think would have made a better album closer than "Paper Planes". But perhaps SM felt triggered by the final song of what may or may not be, but could end up being Girls' Generation's last album having the title "Freedom". Pure superstition, in the fear that Taeyeon, Sunny and Yuri would choose not to renew their contracts. Meanwhile, Seohyun, Tiffany and Sooyoung fold their freelander contracts into paper planes and send them out the window of the upper floor of hte SM building in Seongsu-dong.
Yoona of Girls' Generation – Forever 1 | SM Entertainment
A problem I've long had with Girls' Generation's songs is that they never make the best use of all of the members. It's just a case of the song being pieced out line by line, and then Taeyeon and Tiffany fighting between them during the final run of the chorus to see who can scream the loudest.
Line distribution is 'a thing' in K-pop. And the reality is that this is often how it goes with groups in general. But my concern isn't over certain members not getting to sing more than two words for a solo. It's that we have a group of 8 women who can all hold a tune, yet we get so few instances on songs where we hear all of them singing together. There is SO much which could be done with 8 voices to make songs more interesting, and to also…ya know…BETTER UTILISE EVERYBODY IN THE GROUP. Why do I feel like I'm only hearing 4 voices contributing to backing vocals and harmonies on songs? Girls' Generation is also fortunate enough to have a range of voices, which would make for some great blends. But, nope.
Pushing Girls' Generation into new territory vocally would have been that extra sauce to really make this album pop more, and also show growth for the group. But it would also help separate them. Because how many 6+ member girl groups are in the K-pop game right now giving you a vocal track per member and lacing their songs with great harmonies?
And the thing is, that SM have producers who know how to arrange vocals and at least 3 of these girls know how to sing them, because we heard it all on those TaeTiSeo EP's. Go listen to the way they laced "Stay". Sublime.
Yuri of Girls' Generation – Forever 1 | SM Entertainment
Forever 1 is one of Girls' Generation's best Korean albums, which honestly isn't saying much, given the middling quality of each of them. And whilst I get that Girls' Generation's thing is not really pushing any part of any envelope, and that there is a great comfort fans (and also SM) take in the fact that Girls' Generation never really changes; Forever 1 is still far too overwhelmingly safe to the point that it shows no real growth for the group. SM simply opted to just give fans a new Girls' Generation album which sounds a lot like their old albums. Because, nostalgia. Instead, they should have used the 5 year hiatus that the group was on, and harnessed that into delivering Girls' Generation 2.0. Or 3.0, if you consider the group without Jessica as 2.0.
I still don't understand why SM refuses to make better use of all of the members of the group. I get that Kenzie and co., only really want Taeyeon, Tiffany and Seohyun to sing. But to just sideline all of the other members of the group seems wasteful. Especially given that they all spent time in the studio laying down vocals, which apparently just were not used on certain songs. And the annoying thing is that there are songs where the voices of the groups are played with for really cool arrangements. "Lucky Like That" has some nice harmonies throughout. And the ending of "Seventeen" is great. But these moments feel rare. And even during these moments, I can't hear 8 voices. It's probably just TaeTiSeo.
Making better use of all 8 voices of the group could have been what defined Girls' Generation 2.0 3.0. And it's not like SM doesn't have the talent to vocal produce the shit out of Girls' Generation and develop cool arrangements, because f(x)'s songs always used to have great harmonies where you could hear every voice in the group. Their hooks sounded more like they were coming from a group of 8 than Girls' Generation's did.
It's also a bit silly that just from a business standpoint of trying to keep the Girls' Generation brand going, that SM didn't use this opportunity to give Hyoyeon and Sunny more of a spotlight, to gauge whether those are 2 solo acts worth developing.
Hyoyeon of Girls' Generation – Forever 1 | SM Entertainment
Hyoyeon has released solo songs, sure. But SM has never rolled Hyoyeon out with the intention of her being a legitimate solo act, in the same way they do for Taeyeon. SM only trot Hyoyeon out to fill stop gaps between the releases / comebacks they actually care about. And the one good song she did release in 2021, came and went. And it only got the attention it did, because everybody figured it was for a Girls' Generation comeback. SM keeps playing games with Hyoyeon. It's clear they don't care about her. But from a business perspective, it would make sense to invest in her. Also, she is very marketable. She's got the look. She has presence. She has greater versatility than SM allows her to show.
Then there's Sunny. Gurl. All these years at SM, and no solo song? Sunny was very honest about her insecurities when it came to her singing, after somebody at SM made comments which knocked her confidence sideways. This is a failing on SM's part. First of all, most of the SM roster cannot sing. We tend to get maybe one actual singer per generation. Second of all, you have a member of one of South Korean's most popular girl groups just laminating guest passes for SM HQ, when she could be pushing the Girls' Generation brand forward during moments of inactivity!?
Wow.
Sunny of Girls' Generation – Forever 1 | SM Entertainment
SM shoulda been thinking about these things, because it's the members of the group who are still signed to SM who will keep the Girls' Generation train chugging along during moments of inactivity. But I guess SM are fine with just pushing Taeyeon. Fuck them other bitches, I guess.
But this also speaks to SM Entertainment's approaches to everything. It's just everything having to fit whatever they want, instead of making choices which are best for the acts and the music itself. 'We've never really done much with putting the other members on songs, so let's not change the formula'. But the formula and SM's unwillingness to change is what I feel holds Girls' Generation back. Forever 1 seems more focused on trying to recapture Girls' Generation in a moment of the past, rather than being a representation of who they are now and who they could be.
Girls' Generation – Forever 1 | SM Entertainment
Forever 1 is an album which has some really good songs. But the package as a whole still shows that SM Entertainment have no real idea what to do with this group. Much like Blackpink, the ease of immediate success which comes from a release alone, regardless of quality, provides no real push or incentive to change anything.
Half of Forever 1 being really good is more annoying than the whole album just being bad, because it shows that somebody, SOMEWHERE had a vision for the future of the sound of Girls' Generation, but it wasn't deemed a primary focus, or enough to course correct the first half of the album.
But another issue which really struck me listening to this album, is that it also feels so void of personality, and a sense of who Girls' Generation actually are. Girls' Generation has members who are far more charismatic and bigger characters than you would ever imagine just going off of the songs and the music videos. So, why is none of this carried through into the music? SM Entertainment sees Girls' Generation as a product and a relic. I get that. And I also get why. But this shouldn't always have to be at the expense of not better showcasing the personalities of the members of the group; especially when this is something which is always cashed in on for variety shows and public appearances. Girls' Generation can still be a production and a representation of a specific time in K-pop and SM history, whilst also being other things. SM shouldn't let Girls' Generation go the way of BoA; where artistry development and evolution comes too late, and at a point where they have already been written off. There is far greater potential in Girls' Generation than SM or even the members of the group realise. Forever 1 shows flecks of this. It's not enough. But it's something, and enough of a foundation to build something great on, if SM and Girls' Generation really do the work and stop going through the motions.
Verdict: Jessica
Highlights:
▪ Seventeen
▪ Closer 🔥
▪ Mood Lamp 🏆
▪ Summer Night 🔥
▪ Freedom
▪ Paper Plane