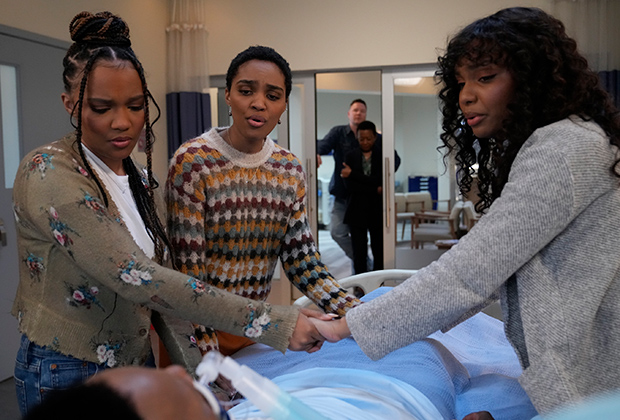 Andy Swift

Curated From tvline.com Check Them Out For More Content.

9-1-1: Lone Star may not be a supernatural drama, but there's no denying the magic we saw on screen this week.
Tuesday's episode found Grace once again wrestling with her father's past infidelity, eventually lashing out at him for making her complicit in his secret. Naturally, she then blamed herself when Papa Williams suffered a heart attack while babysitting Charlie and needed emergency surgery.
Then came the magic: While seated at her father's bedside, Grace was joined by her sisters (played by Sierra McClain's real-life siblings China Anne and Lauryn) for a harmonious performance of Nat King Cole's "Smile" that woke Benjamin after surgery.
"It was a complete out-of-body experience," McClain tells TVLine of getting to sing alongside her sisters on screen. The trio, which now records under the name Thriii, last sang on TV together in a 2012 episode of Disney Channel's A.N.T. Farm. "It was one thing to talk about it with [showrunner Tim Minear], but when we were actually on that bed and they say action and your two real-life sisters are standing there next to you while you're playing a character that you've played for four years — it's just, I don't know. I was completely out of my body and over the moon. There are no words to describe it, but we had so much fun."
The idea to bring her sisters onto the show was McClain's idea, a proposal to which Minear was extremely receptive during their pre-season chat about Grace's upcoming storylines. And it was Minear who suggested "Smile," a song the McClain sisters had never sung together before. Learning music producer Tim Davis' "beautiful" arrangement and recording with her sisters in the studio was "a magical experience all around."
This was also an eventful episode for Owen, who learned that Kendra is in an open marriage, which led to an understandable breakup. That would have been enough, but because this is a 9-1-1 show, Kendra's husband Brett later froze to death in their at-home cryotherapy chamber. And that's not all! Brett's actual cause of death is believed to be poison, and as the guy dating his wife, Owen is almost certainly on the short list of suspects.
Grace was too busy with her own family drama to weigh in on the Owen situation, but McClain thinks it's all for the best.
"You know, I'm actually not sure Grace would have much to say, to be honest with you," McClain says. "She would probably just watch and nod and say a little prayer. Just when you think Owen's done it all… not quite!"
OK, let's talk about all of this: Do you still have chills from the McClain sisters' song? And who do you suspect is really behind Brett's murder? Drop a comment with your thoughts below.