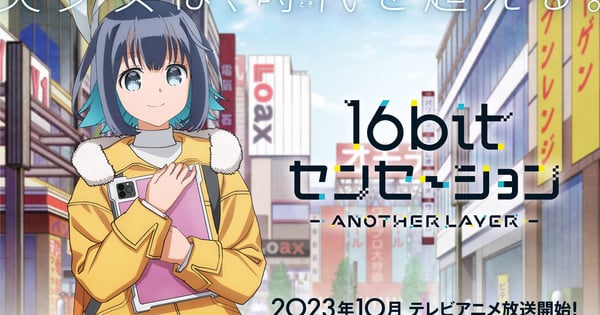 Curated From www.animenewsnetwork.com Check Them Out For More Content.

The official website for 16bit Sensation: Another Layer, the television anime of Misato Mitsumi, Tatsuki Amazuyu, and Tamiki Wakaki's 16bit Sensation: Watashi to Minna ga Tsukutta Bishōjo Game (The Bishōjo Game Made by All of You and I) manga, revealed the anime's cast, staff, visual, opening theme song artist, and October premiere on Monday. The below visual has both a regular and 16-bit tiling version, and shows main character Konoha Akisato in Akihabara in the 90s.
The cast includes Aoi Koga as original protagonist Konoha Akisato, Atsushi Abe as Mamoru Rokuda, Ayako Kawasumi as Kaori Shimoda, and Yui Horie as Meiko Uehara.
Takashi Sakuma (Room Mate) is directing the anime at Silver. Original manga creator Tamiki Wakaki is penning the anime's original story alongside former AQUAPLUS writer Tatsuya Takahashi (Shizuku, Kizuato, White Album, To Heart, Comic Party). Masakatsu Sasaki (Saki, We Never Learn: BOKUBEN, TONIKAWA: Over The Moon For You) is designing the characters. Yashikin (My First Girlfriend is a Gal, My Sister, My Writer, Anime De Training! Xx!) is composing the music. Satoshi Motoyama is the sound director.
Shoko Nakagawa is performing the anime's opening theme song "65535."
The anime will tell an original story.
The 16bit Sensation: Watashi to Minna ga Tsukutta Bishōjo Game manga follows Meiko Uehara, a college student who begins working part-time at a PC shop in 1992. However, this shop is a front for its actual business: an erotic game developer for bishōjo games. Due to the sudden departure of the staff, Meiko ends up as a sub-graphic artist — even though she has never drawn an adult illustration before. Her life as a creator begins as she strives to make an erotic game without snafus.
Wakaki (The World God Only Knows) collaborated on the manga's story with Misato Mitsumi and Tatsuki Amazuyu based on their real-life experiences at AQUAPLUS. They first distributed the manga as a dōjinshi at Comic Market in December 2016. Kadokawa then began publishing the manga in September 2020, with two volumes out as of November 2021.

Sources: 16bit Sensation: Another Layer anime's website, Comic Natalie
---
Disclosure: Kadokawa World Entertainment (KWE), a wholly owned subsidiary of Kadokawa Corporation, is the majority owner of Anime News Network, LLC. One or more of the companies mentioned in this article are part of the Kadokawa Group of Companies.